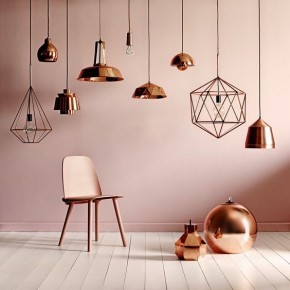 Lighting trends – shapes, sizes, materials and what's new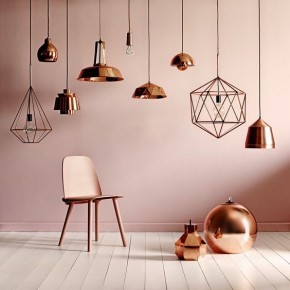 ❖ Warm Metals
Warm metals are back in style; elegant, modern, refined and glamour. Gold, brass, copper, and even rose gold have been a huge trend in home decor lately, and it transpires in lighting as well. You'll see them in pendants, sconces, chandeliers and lamps. The light reflecting off this type of surface gives the room a soft, golden glow and a warm atmosphere.
❖ Pendant Lights
Warm metals are back in style; elegant, modern, refined Pendant lighting can be contemporary, industrial or more traditional. This type of fixture is available in various silhouettes: bowl, drum, flute, bell etc. Pendants can be used alone above a nightstand or a desk or in a series of several fixtures for a nice multi-light piece. You can also use several pendants hung at different heights to create your own kind of chandelier.
❖ Geometric Light fixtures
Bold geometric patterns and shapes are trending in every facet of interior design. The light fixtures come in squares, rectangles, hexagons and circles and are a popular look in both traditional and contemporary homes. You can go for a big geometric light that stands out as a center piece of the room or something more subtle like a square lampshade or sphere pendant light.
❖ Minimalist lighting fixtures
Keep your room spacious and clutter free with a minimalist lighting approach. These simple bare-bones fixtures with exposed light bulbs bring a modern or industrial look to any room. Minimalist lighting creates very Scandinavian, stylish and cool, modern interiors. After all, sometimes less is more…
❖ Blown Glass
This trend actually never really went out of style. Blown glass globes refract light and give an artistic, craftsman feel to your decor. This material is very versatile when it comes to lighting. It can be used to create different pendant light shapes as well as blown glass bubbles to piece together a chandelier style masterpiece. It can also be crystal clear as well as tinted with color. Blown glass suits easily a modern or industrial decor as well as a traditional or even antique one.